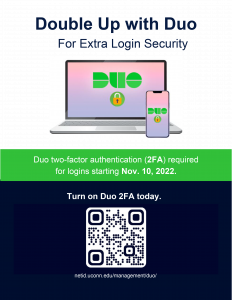 SAIT is recommending that owners/managers of departmental software post alerts regarding the upcoming Duo 2FA requirement for students. This message may help student users avoid interruptions to important systems which can impact exams, jobs, or access to critical support services.
Some of the systems that students log into with NetID are:
HuskyCT
CSD MyAccess
PyraMed Web Portal
ResLife MyHousing
HuskyBucks and OneCard Management
UConntact
Voluntary Separation
Student Workers that use Huskytime, Fusion, etc.
And more…
If you can, place this message (or something similar) on your software landing page, website or printed near the location where students log into systems using a NetID:
Two-factor authentication with Duo is required to access this system starting on November 10, 2022. Attempts to log into this software without Duo will be denied.
Set up Duo prior to Nov. 10, to avoid interruptions with classes, exams, student services and employment systems.
Instructions: https://kb.uconn.edu/space/IKB/26022051860/Duo+2FA+for+Students
Printed cards and posters are also available, contact Padma Srimatkandada in SAIT: padma@uconn.edu.
---